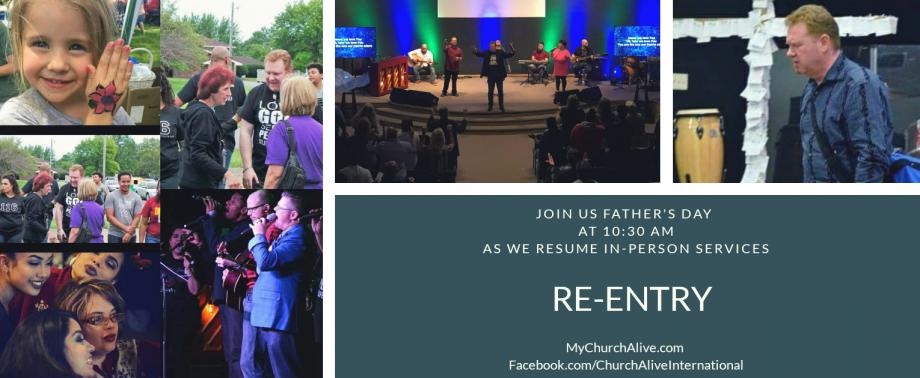 JOIN US FOR ONSITE SUNDAY SERVICE this FATHER'S DAY, JUNE 21 at 10:30 am

We're excited to begin service back in person. Please take the time to read the following information very carefully.
Why is it important to follow these interim procedures and guidelines? The following guidelines and procedures have been established to create an atmosphere of caring for our members, visitors, volunteers, and staff so that we may hopefully minimize the opportunity to pass contagious diseases among those who attend our campus and slowly reacclimate ourselves to being with fellow worshippers. It is our hope that everyone choosing to attend follows these and other state-mandated guidelines while at Church Alive.
If you do not feel that you can follow these guidelines or feel uncomfortable gathering on-site, please join us for service online.
It is important to note that this situation is ever-evolving. Information contained within is subject to change as state guidelines update.
We encourage you to check your email and the church website for updates.
Can I just show up to worship? To accommodate everyone safely, we ask that you sign up to attend service. This is a temporary measure and we ask for your patience. The link will be available on our website on MONDAYS at NOON each week. If you do not have internet access, please let one of the pastors know.
What do I need to know about returning to onsite worship? We are following The State of Ohio guidelines.
Is social distancing still required? Everyone is asked to bring and wear a mask, except for those aged two (2) and under. We will have extra masks available for those who don't have access to one.
Hand sanitizer stations will be available.
Thank you and we look forward to seeing you THIS SUNDAY at 10:30 am